2014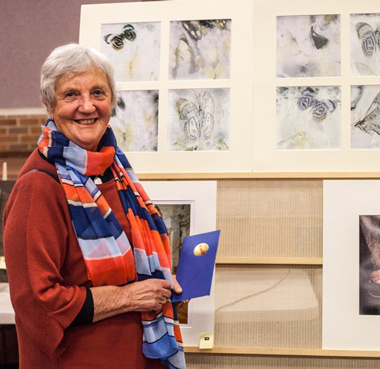 Mark Kelly was our presenter in March. Mark exhibits regularly at the Milk Factory in Bowral, and he is a versatile photographer who enjoys photographing a variety of subjects. He showed a series of vibrant autumn images, then a collection of colourful abstracts which were macro shots of old rusting cars. Many of these abstract patterns are used on a new range of beautiful silk scarves, which Mark showed us, and even allowed us to touch! He demonstrated some of his post processing techniques, and also encouraged us to have a bit of fun with the Snapseed photo app.
In October we had our annual Creative Competition. Dawn Zandstra achieved first while Jan Glover and Prue Platt-Hepworth tied equal first in the popular choice.
The photo shows Dawn Zandstra.
At the AGM in November Alison Seccombe took over the position of President from John Chapman. The membership debated whether to move to Club Willoughby on a Tuesday night but with considerable opposition the committee decided to wait until a better offer became available.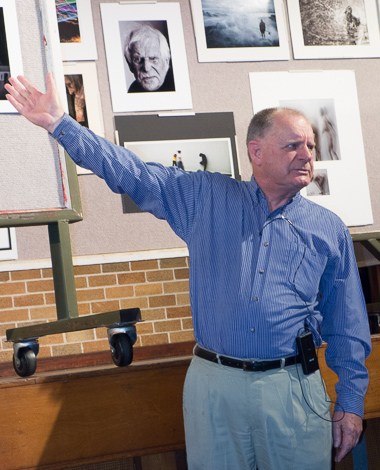 In November we had our friendly Interclub Challenge with Lane Cove and Mosman Camera Clubs.
The subject was "e-motion", purposefully designed to be ambiguous and open to interpretation. Each club showed ten prints and the critiquing was moderated by Susan Buchanan, Jim Crew and Yvonne Lewington.
The photo shows Jim Crew from Lane Cove Camera Club.
John Chapman organised the last outing of the year. It is incredible how very diverse attractions were available in such a small area: the spectacular Bald Hill lookout, waterfalls, a disused railway tunnel, a Hindu temple and the very colourful rock formations of Coledale.