At the bottom left side of the main Light room panel there are four icons, which look like the image below.

First is the
Grid
mode which most of you would be familiar. The shortcut for the Grid view is letter '
g'.
Next is
Loupe
view where you can look at a single image. The short cut is letter '
E'
or just double clicks on the image. In the Loupe mode, pressing the letter '
L'
changes the image background from grey to darker grey and black. This is useful in looking at the image without the distraction of the other Light room panels. Pressing letter 'F' will give you a full screen view and pressing it again reverts the original view. (Full screen mode can also be used from the Grid view by pressing the '
F'
key).
Another useful key in this view is the letter 'I' that gives you image information. Repeatedly pressing the letter 'I' cycles through the different
information
modes.
The
X-Y
icon is for comparing two images. (Shortcut 'C'). In this case the image on the right is the 'candidate' image, shown with black diamond in the top right corner. The image on the left is the selected image to compare with the candidate image. To compare another image, you can move the cursor left or right or click on another image.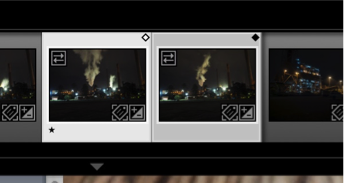 You can also zoom into part of the image by pressing
cmd/ctrl +/-
. Both images will zoom in synchronised manner. To reposition an image while zooming, click on the lock icon reposition the image and then click on the lock.

You can change the candidate image by clicking on the
X<-Y
icon on the right.
The fourth mode is 'survey' mode. Just highlight related images and press letter '
N
' to survey these images in the main window. Press the
Tab key
to hide the panels to give more space for the images. In the survey mode, you can assign star rating to each image, or by clicking on the 'x' in the bottom right corner deselect the image from the survey. Both survey and compare are good tools to choose the best images from a photo shoot.
Final icon is People view. But, more on that at another time…
Hemant Kogekar