1988 – 1994
In 1988 NSCC struggles to survive and in 1989 the committee's size is reduced from 9 to 6 and the AGM quorum from 15 to 6. The membership had dropped to 17!
The mini print section was introduced in 1990.
In 1991/1992 Elizabeth Skillington reluctantly accepted the presidency of the club and she bravely struggled to keep the club going, but for how much longer?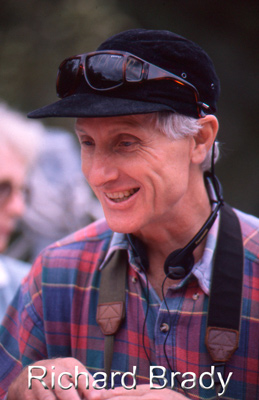 Suddenly new blood emerges. Richard Brady (#15) joined the moribund club in the early months of 1993 and on 28th July was elected President.
On 1st September membership is still only 23 and Richard stressed the need to increase membership. At meeting nights the table that separated the "executive" from the members was removed, the red tape was cut and club meetings were meant to develop one's creative aspirations.
Within a very short time Richard's enthusiasm spread and membership grew steadily and in 1994 more present and recent members joined the club: Barbara Bryan, Maree Davidson, Jan Glover, Ken Knell, June Stone, John Sutton and Brian York.
The club moved from St Ives Community centre to the Baptist Church Hall in Gordon.
Professor Phil Schofield accepted to join the club. It was a master stroke. By his example he encouraged all members to experiment in mixed media and creativity. With the help of scissors, glue, sandpaper, tea and anything that one's imagination could visualize members created exciting works and found a new freedom of expression.
Many judges struggled with this new approach and felt that unless these creations were re-photographed they could not be judged as photographs.
The legacy of Phil Schofield and Richard Brady with his dynamic committee has never left the club. Richard's non member wife Cheryn undertook much behind the scenes work. Richard remained President for five very exciting years.
1995 – 2000
In 1995 the club enlisted 30 new members with Carol Makeham and Jenny Turtle still very active members.
Arch Raymond presented a very inspiring talk on creative photography and NSCC took part in two interclub competitions.
In 1996 Henry Talbot became the patron of the club.
Richard and Sharyn Brady organized very memorable outback trips.
In 1996 Mark Howard (#54) and Jacques Roussel (#49) joined in the euphoria of creativity. Club members were given an identifying number. No longer did we put our name at the back of print or front of slides but our number, so that judges would not be influenced by who they may know.
Jan Glover was the club's secretary.
In 1997 three members joined who still have a great impact on the club's success: Arch Raymond (#82), Mary Raymond (#77) and John Huggett (#94).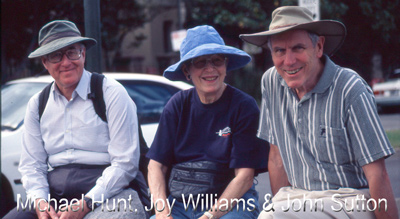 In 1998 Michael Hunt and Joy Williams joined the club.
Richard Brady wanted more time to further his studies and Barbara Bryan took over as president.
Barbara felt handicapped by having "Camera Club" as part of our club's name because most clubs are incredibly conservative and many would be presenters want nothing to do with "Camera Clubs".
In 1999 Henry Talbot sadly passed away; he was a leading fashion and portrait photographer, a charming man with a very witty sense of humour.
Barbara Bryan convinced Arch Raymond to become our Patron. Arch gave the club great support by entering stunning images in competitions and teaching members many esoteric darkroom techniques.
The committee had grown to 17 members, a very unwieldy number. Committee meetings tended to get bogged down on less relevant issues. Decision making became difficult.
In 2000 Eric Adcock, Norman Wong, Sandy Jacka and George Fracchia joined the club.
With very little notice the Gordon Baptist Church advised us that their hall was no longer available. Barbara Bryan and Jan Glover chased all the possible available venues and settled on the hall of St David's Uniting Church in Lindfield.
That year Jan Glover was awarded a first prize at the Sydney International Competition.
In April a vote was taken to change the name of the club: three options were offered: two in favour and one for no change. Very emotional speeches were given for and against a new name. The arguments against change were that "Creative" may frighten would be members and that if the present name was good enough to attract members in such large numbers why change it. The result was 66.6% voting in favour of either of the new names and 33.4% against, delaying any change as the constitution required 75% acceptance.
The committee resolved to reduce the options to adopt "Northside Creative Photography" or no change. John Huggett proposed to add "A club for enthusiasts" as a by line.
At the AGM of 19th July "Northside Creative Photography" was overwhelmingly accepted. Norman Wong's brother in law designed our beautiful new club's logo.
2001
The club changed from Financial year to Calendar year and in January 2001 Sandy Jacka took over the presidency. Her charm and positive approach received strong support from committee and members.
Membership was climbing and at each meeting there are new faces. Kay Hill, Flora Gill and Harry Mills join Northside Creative Photography.
Miriam Wiggers de Vries edited "In Focus" and with Catherine Brown set up our first website.
Over 60% of members entered the competitions – 39% enter monochromes, 39% mini prints.
2002
For 2002 John Huggett proposed that our programme should be in colour and should incorporate photographs from club members and together John and Jacques produced the first of what is now an annual production. Jan Glover has produced it ever since. Jan also took over the editing of "In Focus".
Susan Buchanan, Chris Barlow, Beryl Jenkins, Malcolm McKay joined the club.
This was also our club's 50th anniversary and John Huggett organized the official dinner at the Chatswood Golf Course. Des Crawley gave a moving speech, Sandy organized a fun Quiz.
On 21st August Arch Raymond presented a retrospective. A real "who's who" of the photographic world attended this great evening."In Focus" grew to 4/6 pages.
In September we took part in the "Showcasing the arts in Ku Ring Gai" at the town hall. A very impressive display of arts and crafts but unfortunately visitors were few.
Monochrome Photographs appeared for the first time in the November "In Focus".
The club night entry fee was replaced by a lucky door prize.
2003
In 2003 Wanda Bowen, Tim Collisbird, Wal Lamberth, Carolyn Pettigrew and Dawn Zandstra joined the club.
Alison Pratt who raced HSV's used her considerable charm to organise an outing to Eastern Creek Raceway. Racing officials were astonished as members took up position track side.
John Huggett launched the first "Photo Rally" and this becomes a regular feature of our calendar. Tim Downs revamps the website and turns it into a very up to date outfit.
Film users make pressure for their photographs to be judged in separate sections from the digital entries but to no avail.
Alison Pratt was both secretary and editor of "In Focus" and asked for her load to be lightened.
In August twelve members spent an exciting weekend in Barrington Tops which is renowned as much for the photography as executive decision making. Our President Sandy Jacka suggested to Susan Buchanan that she take over the presidency of the club and asks Chris Barlow to take over as editor of "In Focus" in 2004. Alison has a serious car accident and Chris takes over the editing of In Focus much sooner than he expected and develops it into a very attractive publication full of colour photographs.
Chris assists Tim Downs with the Website and installed the Photo Gallery software.
2004
In 2004 the printing of 100 copies of the now 6 – 8 page "In Focus" was becoming difficult and it was decided to email copies to members and only do a small print run.
In February Jackie Rankin presented "Different ways of seeing". Her father piloted a Tiger Moth and she photographed the landscape while the plane was doing loops.
We spent a great day photographing dogs and horses at the Wyong Race Club.
Prof Des Crawley presented his "Prospective" "Celebration of Beauty – The Figure" a moving exhibition of semi abstract nudes. He has also entered the digital world.
The committee was reduced to 8.
Ken Ball suggested that we "smell the roses" and experience Zen and the art of seeing: "Stop rushing, observe, see what is around us and break the rules."
2005
We gathered in February for a great social evening organized by Carolyn Pettigrew. The theme was "Oo La La, A Night in France". Delicious "French" food and champagne complements a friendly photo competition on the same theme.
Bill Henson's controversial exhibition at the Art Gallery of NSW was the main topic of conversation.
Tim Downs moved to Queensland and Chris Barlow became full time Webmaster. Peter Finlay took over as newsletter editor and towards the end of the year he was replaced by Peter Marks.
Great nights were also provided by Tim Clayton the then sports photography editor of the SMH and by Tim Hixson and his plastic lens Holga Cameras. Tim modified his camera to focus at a certain distance and changes cameras rather than apertures.
The Rally for this year was in Paddington. So impressive were the photos that we were invited to exhibit a selection in the Woollahra Council's office.
Chris Barlow with the assistance of Wal Lamberth commenced the time consuming task of sourcing a good quality data projector for the club.Peter Sambell and wife Mary arranged for the club to photograph both rehearsal and concert performed by the Willoughby City Brass Band. We were given full freedom of movement.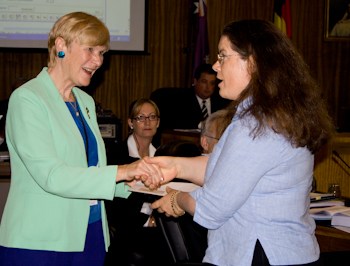 Northside held two online digital competitions towards the end of the year and they are very popular. The judging of the first one is carried out online by Bob Milo and Arch Raymond.
It was Northside's first foray in digital photography and many members struggled with resizing of images and uploading them to the Webserver. The workload for the Webmaster was not sustainable and he begged the committee that there be no more.
Matt Hoyle presented a collection of large portraits where his subjects were seen warts and all, be it wrinkles, skin cancer or scars. The faces overfill the frames. Emotional effect was huge.
Carolyn Pettigrew prepared a submission to Ku-ring-gai Council for a grant to be allocated for the purchase of a data projector and in November Mayor Elaine Malicki presented a $1,000 cheque to Susan.
Natalie Brem tutored four sessions of night photography and review.
The committee, with only two of its members still mainly using slide film, agonized whether or not to stop the slide competitions. After lengthy and sensitive discussions the President announces "There will be no further slide competitions".
Jenny Johnson offered her beautiful home and garden for a great end of year celebration.